Landen,
Belgian Club Championships,
(.75-20-5)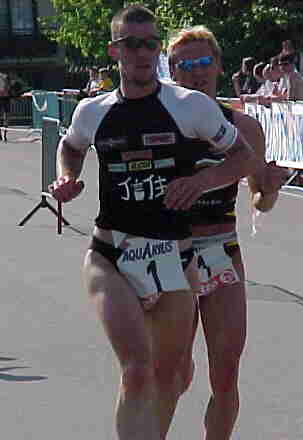 Nice hot weather, and this proved to be a hard race (again). We started out with a group of seven (the maximum allowed) intending to stay together until the run. No such luck I am afraid.
After a comfortable swim (headed out at 1'20" per 100m) we already lost one of our team in the transition. Steve was so unlucky as to not get into his cycling shoes. I didn't realise that though. I waited for our "last" biker and brought him back to the group... to realise that there were only six of us left (oops). Well, Steve was out of sight so we just continued... But after a long stretch which could be ridden at high speed, we also lost our sixth man (oops again). We were going strong though, so we just continued. We actually almost managed to catch the leaders and recorded the best cycle split of the day. However, at that moment it became obvious just how hard it already was, as only Dirk was running easily, and the rest of us had it very hard indeed, going as fast as possible. Ans the run laps are not easy in Landen! Anyway, we had to let the clubs from Antwerp and Lommel go and try to finish as fast as possible, as there could have been a faster team in a previous heat. And unfortunately, there was, the team from Mechelen had a faster time, so we finished in forth place, just outside the podium, but still a two places improvement for AATT. So next year, we will try to gain another place!